Hello everyone and welcome to BetterPoints' first business-focused Newsletter. Betterpoints as a company and as a service offering has been in development for a number of years and, we are extremely pleased with the kind of results we have already achieved with many of our programme partners, and also very eager to share the capabilities of what is now a highly developed set of capabilities and approaches.
In order to share the kind of thinking, research, programmes and results that we are pursuing now at BetterPoints we believe that a monthly newsletter would be a useful resource as well as an opportunity to start more conversations with each of you. Each month I will talk about a feature or area of our work that can we think can support you in your work and programmes. Please feel free to comment, ask questions, or arrange a face to face or telephone conversation… we are always around and pleased to talk.
For this first newsletter, I decided to focus on what lies at the heart of BetterPoints, which is how we approach the subject of Behaviour Change.
Behavioural Change Science and Methodology
Our Behaviour Change approach and how this is embedded intp the BetterPoints systems and programmes is built on many years of our own personal staff experience in other fields but also on solid theoretical underpinnings. We partner with leading Universities in the area of Behavioural Science (such as University College London) and we work quite hard at employing the latest thinking in behavioural science. The technology and programmes bring together a range of incentivisation and motivational pathways (within which are an ever varying tailored and flexible 'reward mix').
At a high level, our behavioural change approach is very common sense... Make individuals (who we wish to join a relevant programme) aware of a situation and what their particular role or opportunity in that situation might be. And then we ask them to try something new and make it easy for them to do it and yes, we will add in an extrinsic rewards (such as an amount of Betterpoints or entry into a prize draw) to help motivate them to do it. And if the person does the activity, then we reward them for doing that and suggest others that might be rewarding for them as well.
But in due course, the main goal is to move individuals in our programmes from extrinsic, external rewards into more intrinsic rewards… emotional engagement, social involvement, personal health and wellbeing, being able to feel good about participating in events, etc.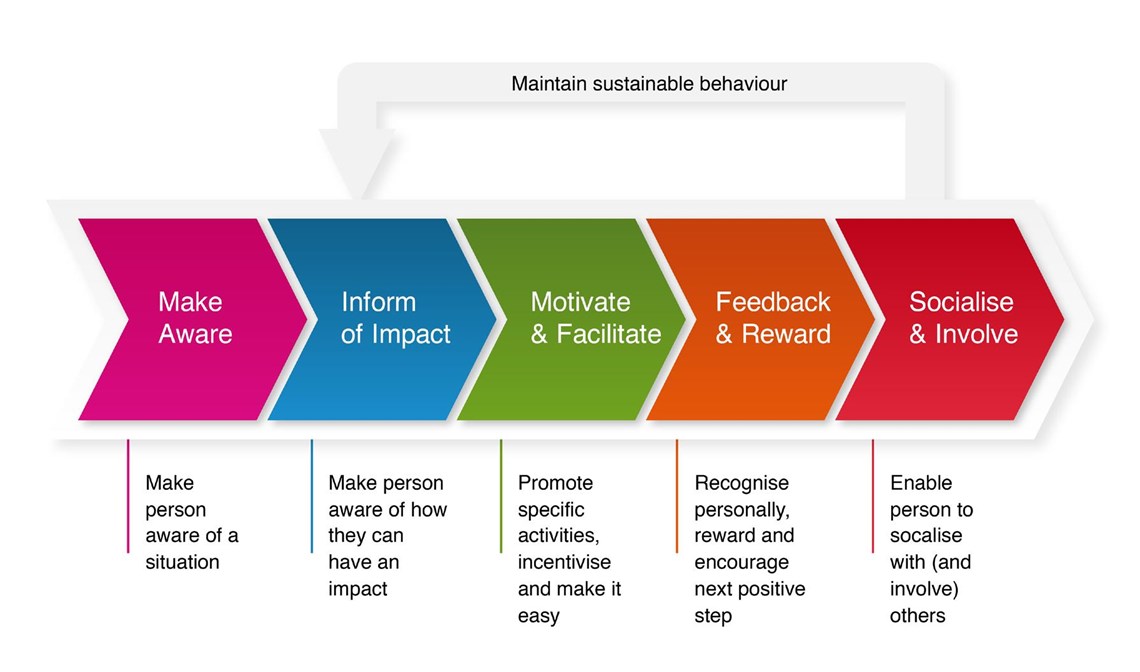 The use of incentives is important but they need to be gauged carefully as they are only a small piece of an overall approach. Our partner programmes are often highly customised and adapted in real time during a programme period to motivate and track to how individuals actually behave in response to messaging and activities offered. It is also critical to be able to ascertain how individuals in a programme are behaving at the programme outset and be able to track their modal or behaviour shifts throughout the programme steps and at the end of the programme. These measurements can be in the form of things like increased time or frequency or duration of activity or in terms of annual cost savings to a local authority across a programme base.
The customised App and Portal technology that underlies our behaviour change approach is very flexible and responsive enough to adapt in response how individuals change in motivation and circumstance. Programme administrators can have access now to a strong back end management system where user activities, point levels, push messaging, social media can all be managed.
Finally, one of my core beliefs from the outset is that programmes need to be anchored into a local community and that a number of local stakeholders should be involved… whether it be a local authority and fitness centres or local transport operator or NHS Trust and Voluntary association. Over time, we have found that once a programme is established in a location with one stakeholder, that others quickly join on board and help to increase the richness and benefits of the programme to local individuals.
There is so much more to say and discuss on the topic of Behaviour Change. We think it's exciting and hope you will get in touch with us to talk about it.
Thank you for taking the time to read our Newsletter, we look forward to keeping in contact with you.
Dan Gipple
CEO, BetterPoints Ltd
---
Subscribe to our mailing list: